Helping Wings Day 2012
The chosen date for the 2012 Helping Wings day could not have been a worse choice. It rained virtually all day long, with poor visibility and low cloud combining to make flying impossible. Even the commercial flights were grounded for a while.
After four completely successful years, perhaps it was inevitable that luck would run out, putting the organisation to the test.
In the hope of improving conditions, everyone was checked in and given their Helping Wings T-shirts and goodie bags. This year's children came mostly from the Variety Club (all were finalists in the Variety Club's Child of the Year Award), Autism Jersey, Jersey Adoption and Foster Care, and Jersey Young Carers.
Thirty five young passengers sat patiently, together with their families and carers, at the Jersey Aero Club waiting for that forecast improvement in the weather. But there was absolutely no feeling of hanging around waiting for the next announcement - far from it. A day full of activities kept everyone occupied. Art teacher, Ann Morgan, got the day off to a good start with a drawing competition, with prizes awarded at the end of the day. The results were excellent with some very high standard pictures, mostly of aircraft, making the judging very difficult.
Since the first event, the attendance of Jersey Airport's Fire and Rescue Service has always been a highlight. This year was no exception. With wet conditions outside, the smaller of the two fire tenders was squeezed into the hangar where the children could climb on to the vehicle, sound the horn, and try on helmets in complete safety.
During the morning visit by the fire service an additional visitor arrived, in the form of Channel Television's ever popular Oscar Puffin who was Instantly surrounded by his young fans.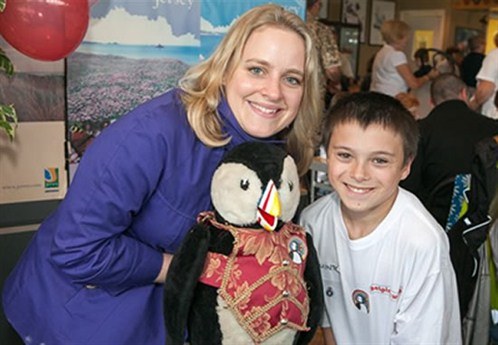 New for 2012 was a display by the Police Dog Handling Team. Handlers Dave Bisson and Richard Blake showed off Thor and Ripper's impressive capabilities and kept everyone, young and old, spellbound with their dogs. Hopefully this will become very much part of Helping Wings days in the future.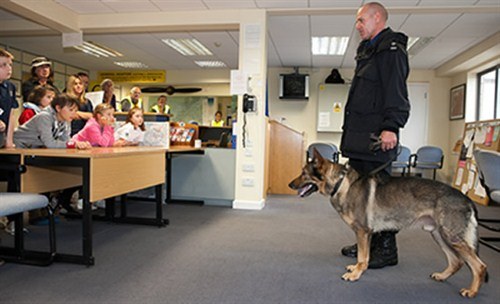 With no flying, the logistics of providing lunch for all one hundred visitors and helpers at the same time could have been a challenge too much. But with a good team in the kitchen and on service, everyone enjoyed their lunch well in time for the arrival of Chicano, the magician.
The level of excitement and noise increased as a fascinated young audience fully participated in forty five minutes of pure magic.
An afternoon visit by the Airport Fire and Rescue Service, followed by the results of the drawing competition brought the day to an end, together with a promise to our young passengers that flights would be re-organised as soon as possible.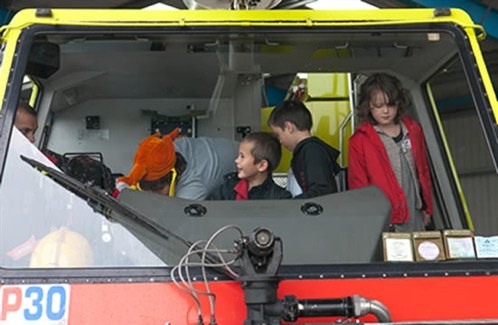 It isn't often, if ever, that passengers walk away from the airport after spending a whole day waiting for a flight which does not take place, with big smiles on their faces. 2012 Helping Wings was literally a wash out but still a great success.
Helping Wings would like to thank Jersey Airport and its Rescue and Fire Service, States of Jersey Police, Jersey Aero Club, Ian and Julie Le Sueur of Kandidprint, Chicano, Ann Morgan, Channel Television, Daniel Houzé, the Variety Club of Jersey, and Lloyds TSB Foundation whose support was invaluable. The Helping Wings committee adds an enormous thank you to its dedicated team of pilots and ground crew who so freely gave their time and efforts. Finally the biggest thank you goes to our young passengers who behaved impeccably and made the whole day so worthwhile.
Back to news