Flying bursaries
For some years, Helping Wings has been able to offer a number of flying bursaries. Funded by our very generous sponsors, these bursaries are aimed at local people who would not normally expect to be able to take flying lessons.
The Sir James Knott Trust has funded bursaries aimed specifically at the lower limb disabled. Helping Wings is working closely with Synergy Flight Training to fit the necessary conversion to one of their aircraft. This will allow a lower limb disabled pilot to fully operate the aircrafts controls and so learn to fly.
Ports of Jersey has, for a number of years, actively supported Helping Wings by providing an annual £2000 flying bursary. In 2021 this was awarded to 16 year old Nicole Camacho who has been diagnosed with Macular disease.
Also in 2021, The Butlin Family Charity Trust sponsored a bursary to the value of £2500. This was awarded to Ant Lewis who suffered a stroke in 2007.
Both Nicole and Ant started their training in November 2021 and we very much look forward to hearing about their experiences.
All our flying bursaries are awarded on an individual merit basis with candidates attending an informal interview process prior to selection.
Details of future bursaries will be published in the local media, on our website and Helping Wings Facebook page.
Our Sponsorship Winners
Chakotay Wood
Helping Wings are delighted that its 2015 flying scholarship, sponsored by Ports of Jersey, has been awarded to 15 years old Chakotay Wood.
Chakotay who is in his first year of GCSEs at Le Rocquier School has received £2000 of flying training with the Jersey Aero Club under the watchful eye of chief flying Instructor James Evans.
Although not expected to flying solo within this time, Chakotay is hoping not only to complete his flying licence but his dream is to become a commercial pilot.
I've just booked up my concluding flights I believe under the scholarship (weather dependant) and I would like to take the opportunity to thank you, Helping Wings and the Ports of Jersey for providing me with an amazing opportunity/experience and hopefully this is the beginning towards my future career ambitions in the aviation industry.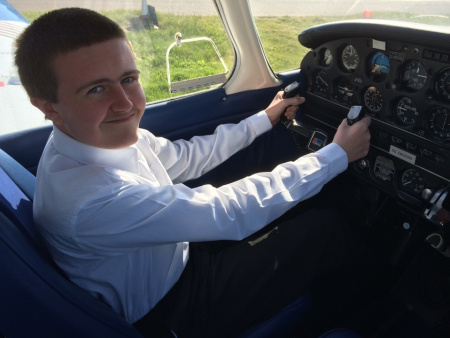 Gerard Mc Gonigle
We were very impressed with his determination and his enthusiasm. He is a very focused young man and we know that he will get a huge benefit from his flying.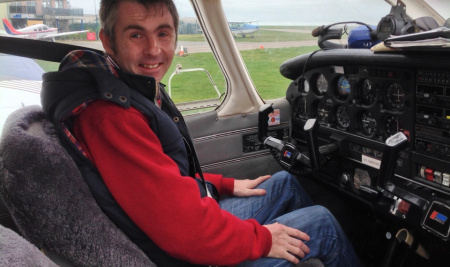 Matthew Perree
I really big thank you, I really learn flying around Island of Jersey, good experience flying real cockpit, I learn lot different experience on computer, it is interesting take off and landing, not like sit on passenger, it is real drive like on plane, one most amazing experience on plane. I got some picture for you, I will love go again, I really enjoy flying, good teacher with James, he most calm and good time.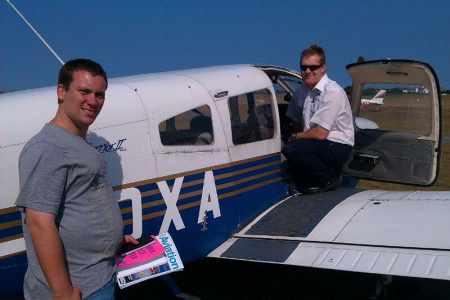 Claire Williamson
Claire being presented her award by Myra Shacklady, Group Commercial Director of Ports of Jersey. She also received a year's subscription from Flyer Magazine.
So far I've had 5 lessons and have managed to take off by myself! The last lesson I had we were doing circuits (taking off looping around back to land) which was great but it was a bit windy so very bumpy! It was so great to feel in control of the plane and see Jersey from above!