Helping Wings and Wetwheels joint event 2023
Helping Wings and Wetwheels joint event from Eveline Hawkin, HW Chair.
Having good weather for sailing and flying for our joint event with Wetwheels was a bit of a miracle, especially as the forecast was not the best!
The day started at the St. Helier Yacht Club where everyone met for a relaxed breakfast. Afterwards, we split our guests in two groups with the first one sailing whilst the other group made their way to the Jersey Aero Club for their flight around the island. In the afternoon, those who flew went sailing and vice-versa.
We had a great addition to the day with the visit from Channel Island Air Search who were with us for the day, enabling all our guests to have a look at their Islander aircraft with the crew on hand to explain the various bits of high tech equipment.
Everyone had a wonderful time and it was very rewarding to see all the happy faces at the end of the day. Quote of the day from one of our guests who flew in a helicopter for the first time - "This was the best day of my life !"
As usual, a lot of people need to be thanked and we are so grateful to all, whether Helping Wings or Wetwheels volunteers for their kindness and generosity.
We would also like to thank our sponsors, Ports of Jersey and The Lions Club for their continued support.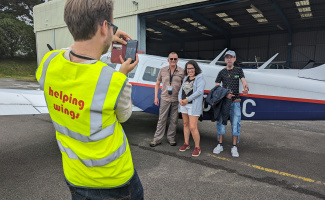 Back to news